District 1 | John Wheaton
102 Starksville Avenue North
Leesburg, Georgia 31763
Phone: (229) 759-6000
Fax: (229) 759-6050
Email: jwheaton@lee.ga.us

Commissioner: 2019 - Present
Vice Chairman: 2020 - Present
Boards & Committees: County Commission
Political Affiliation: Republican
Term Expires: 12/31/22

Bio: Mr. Wheaton was elected to the Lee County Board of Commissioners in 2018. As the District 1 Commissioner, John Wheaton began his term on January 7, 2019. He is a 65 year resident in the Chokee/Smithville/Leesburg District and is a proud graduate of Lee County High School. He and his wife Sheila Gates Wheaton have been married for 57 years and have two daughters, four grandchildren, and two great-grandchildren. Mr. Wheaton was a Lee County Probate Judge for 32 years and is currently the Municipal Court Judge for the City of Leesburg and City of Richland. He has also served as the Police Chief for Leesburg, has been a pecan farmer for 40 years, and is known for his volunteer work. In 2017, Mr. Wheaton received a Lifetime Achievement Award from the Lee County Chamber of Commerce.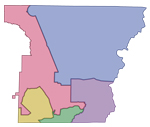 District 1
John Wheaton, Vice Chairman
District 2
Luke Singletary
District 3
Billy Mathis, Chairman
District 4
Rick Muggridge
District 5
George Walls