District 5 | Bill Williams
Administration Building
102 Starksville Avenue North
Leesburg, Georgia 31763
Phone: (229) 759-6000
Fax: (229) 759-6050


Commissioner: 2008 - 2012, 2017 - 2019
Vice Chairman: 2019
Boards & Committees: County Commission
Political Affiliation: Republican
Term Expires: 12/31/20

Bio: Mr. Williams grew up in Albany and attended schools there from 1960 to 1972. Mr. Williams went to Valdosta State University where he graduated with a Bachelor's degree in Business Administration with a major in Accounting. He later obtained his CPA license, worked at a public accounting firm, and in 1998 co-founded Garland, Williams & Associates, CPA's in Lee County, where he is presently a partner. His specialty is governmental accounting and auditing and currently has 6 counties and 10 other governmental entities as clients. Mr. Williams and his wife, Sharron Williams, moved to Lee County in 2000, and he was elected to serve on the Board of Commissioners in 2008 and again in 2017.

"I am happy to be a part of the progress that our county has achieved and am committed to maintaining the financial health that our county has obtained during the last few years."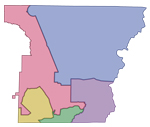 District 1
John Wheaton
District 2
Luke Singletary
District 3
Billy Mathis, Chairman
District 4
Rick Muggridge, Vice Chairman
District 5
Bill Williams